August 12, 2023
Zion Springs - Hamilton, VA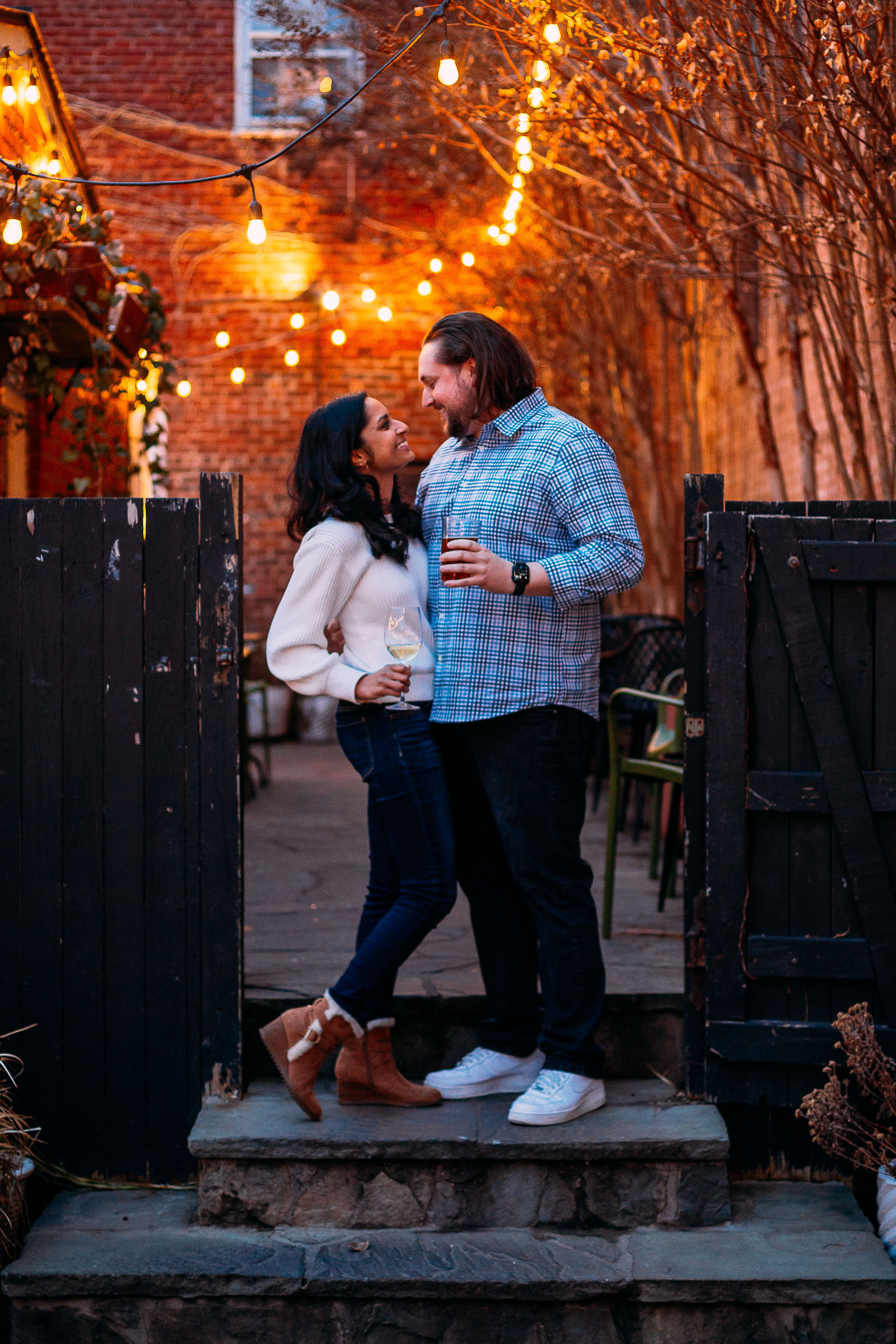 Ice skating instructor, salsa dance partner, guinea pig for Mel's many dinner experiments – these are all crucial roles Eric has played over the last three years. After meeting for the first time at their friend Kenly's birthday party in September 2019, which they both attended on a whim, Eric and Mel's relationship took off. Highlights of their first few dates include all-you-can eat Korean BBQ, a riveting karaoke performance that would have made Britney Spears proud, and some messy cooking adventures that were worth the cleanup. They even managed to assemble half a catalog's worth of IKEA furniture and stay together in the process–the mark of a truly strong relationship.
These days, Mel and Eric love to test out new coffee shops (although they have yet to find one that beats their all-time favorite Compass Coffee), grab a drink at the local Ballston Quarter, and explore Old Town Alexandria. They are always down for a quiet nature hike, a good taco, rowdy concerts at the Anthem, and spontaneous trips to Baltimore. They still frequent The Wharf in Washington, DC where they first met, and in fact Eric chose this as the spot to propose to Mel on December 1, 2022 with a beautiful ring that had been in the works for months.
*********
We're thrilled to tie the knot this summer and even more excited to share this special time with our loving family and amazing friends. This wedding will not only blend two lives, but two cultures, and we hope it's as memorable for you all as it will be for us!
Kindly let us know whether or not you will attend by June 16.
We are so grateful for the many guests coming in from out of town to celebrate with us! For your convenience, we secured two hotel blocks with discounted rooms in nearby Leesburg (see below for more details). These rates expire on July 12, and given how popular Leesburg is for summer weddings, we strongly encourage you to reserve a room as soon as possible. If you are unable to book a room at one of our hotels, there are plenty in the area to choose from, and you may still utilize the shuttle service by going to one of the two hotels at the designated pickup times. Uber is also available (but limited) in the area.


For those flying into Virginia, we recommend coming to Dulles International Airport (IAD), which is about a 20 minute drive from both hotels.
Click below to make a discounted reservation in one of our room blocks.
A shuttle service will be provided to the venue from both of these locations.
Staying at one of these two locations will help us coordinate pick up and drop off with shuttles!
Cocktail Hour + Reception
After Party on the Zion Springs Patio
Directions to Zion Springs
Directions to Zion Springs
Zion Springs is a rustic barn wedding venue located on a 24-acre farm outside of Hamilton, Virginia. This luxury bed and breakfast and vineyard nestled in a breathtaking stream-fed valley offers everything you need for your perfect wedding celebration.